Get Paid to Share Your Expertise
Help shape the future of business through market research studies.
See Research Studies

Many MBA students can only get loans with high interest rates because lenders fail to consider their high earnings potential and the high probability of repayments. CommonBond raises money from alumni and a community of investors who believe in the students and recent graduates, and their potential. These funds are pooled to offer more affordable loans to creditworthy borrowers. MBA students and graduates can save thousands of dollars by borrowing through CommonBond where you're treated as an individual — not a transaction.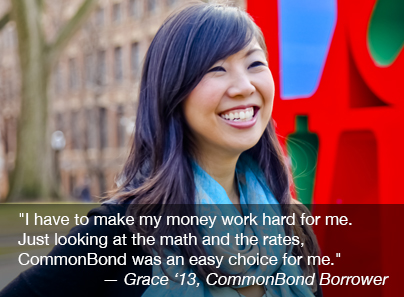 Working with CommonBond, you can borrow up to the full cost of the attendance while avoiding the hassle of managing multiple loans, rates and payments after graduation. Highlights are the following:
Avoid any refinancing fees when you refinance through CommonBond
Qualify for a 5.99% fixed 10-year interest rate with automatic debit
Consolidate both MBA and undergraduate loans up to $220,000
Save up to $17,300 by submitting your application in about 15 minutes
CommonBond strongly believes that business can and should be a positive force for change. CommonBond understands that they are part of a broader, global community. Their social promise allows them to tap the power of the CommonBond community to benefit students worldwide…reaching far beyond just U.S. graduate students.
Education is a powerful tool to help lift others out of poverty because it allows them to build the necessary skills to succeed. So globally, for every degree fully funded on CommonBond's platform, the company covers the education of a student in need abroad for a full year. And locally, for every new city where CommonBond introduces a graduate loan program, the company funds financial literacy education in an under-served community.
CommonBond is changing the world, one loan at a time. Get started with CommonBond.
Personal Touch:  "It was that personal touch that really makes a difference with CommonBond – I don't think you're going to get that anywhere else." Tom Allison, CommonBond Borrower
Social Promise:  "It's not often that you can find a company that is driven not only to help people find a more affordable option, but also to do something that impacts the community they're in." Mike Daschle, CommonBond Borrower