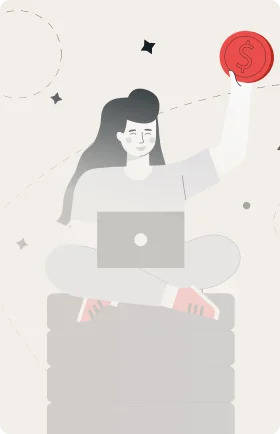 Get Paid to Share Your Expertise
Help shape the future of business through market research studies.
See Research Studies
You know that a successful job search requires covering all your bases—answering ads, networking, and working with a recruiter.
But that last one can sometimes seem out of your control. As one job seeker recently said, "I can't contact a recruiter, they don't want you unless they find you."
Well, yes and no.
First, it is essential to understand how recruiters work. Some are employees who fill jobs, often in specific departments or functional areas, for their companies. Others are external firms or individuals that companies hire when they need to fill specific positions.
And it is the specific position part that can make working with a recruiter tricky. "If you simply send along your resume, it is likely to be overlooked or, at best, entered into a database for future searches" says Sara Farkas, Director of Talent Acquisition at Ivy Exec. You may be a highly talented person, and a recruiter might think you are fabulous, but if you are not a match for the role she is currently looking to fill, it's a little tougher.
But that doesn't mean you should sit back and wait to be discovered. There are things you can do to start relationships with recruiters—both those who are currently searching for candidates like you, and those who might be looking to fill the role you want next week or next month.
Be noticeable.
If you are trying to be found, you need to shine a bright enough light to be seen. Recruiters search for candidates in many ways, but one sure way is online. Keep your social profiles up-to-date (whether or not you are actively looking for a job).
Be sure to use keywords and include the skills that are sought-after in your field. Then, get active. Write blog posts, comment on posts, and join group discussions. The more active you are the more likely your name will come up in a search. 
Get introduced.
The single best way to work with a recruiter is to be referred to one.
If you are looking for job in the short-term, try this: Look through your professional network to find contacts in your industry that have recently changed jobs, and contact them asking if they worked with a recruiter. "If someone has had a positive experience with the recruiter, ask to be introduced," says Farkas. Ideally, your contact can send a note with your resume, but if not, ask if you can use his or her name when contacting the recruiter. Either way, follow up with a phone call. The recruiter still might not have a position appropriate to you, of course, but you will have made the connection.
One common error people make is to ignore or put off recruiters who do contact them if they are not on the job market at the time. Recruiters, particularly the better ones—and those are the ones you want to work with—are relationship builders.
They want to get to know the players in industries, and if you want to be one, or stay one, you should do your part in keeping up that relationship.
When contacted by a recruiter, always respond. Thank them for getting in touch and explain briefly why you are not interested in the opportunity. Maybe you are happy where you are, or the job itself isn't one you would want. And if you know someone that is a good fit, let the recruiter know.
When the time comes that you are job hunting, you'll have recruiters who will take your call.