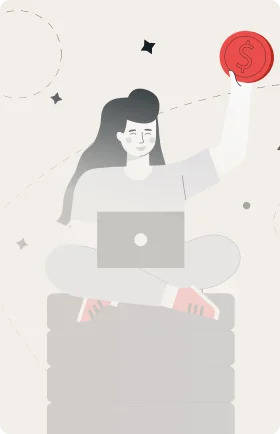 Get Paid to Share Your Expertise
Help shape the future of business through market research studies.
See Research Studies
Recently, we sat down with our Manager of Resume and Coaching Services, Nii Ato Bentsi-Enchill. He shared his insights into building a perfect resume.
Some of the best movies, books, and stories leave elements up to the audience's imagination.
None of the best resumes do.
Which is why you should paint a vivid picture, fill in gaps, and leave nothing to the imagination. Remember, if it's not on your resume, the reader won't know it!
This is often a stumbling point for those writing their own resume. Since you already know the context of your story, you might fail to connect the dots for the reader who doesn't also know the context.
To really make your accomplishments shine, express the details of the scope, scale, timeframe, and even the climate you faced.
Scope: Did you manage a territory or multiple offices? How many?
Scale: What was the size of the team or budget you managed? For those in finance, assets under management? For example, did you have a 10 million dollar budget, but only need 8 million to achieve your targets?
Timeframe: Did you achieve a major task 3 months ahead of schedule? This is a perfect way to show you have stellar time and project management skills.
Climate: A great way to stand apart from the competition is to show how you excelled in the climate of your company or industry. Was your company experiencing consecutive revenue loss quarter after quarter, yet you found a way to turn it around? Did the industry take a turn for the worse, yet you found an innovative approach to keep your company on top?
Your Value Proposition
First and foremost when crafting your resume, Bentsi-Enchill stresses that you need to remember who your audience is. Don't over-indulge and write exclusively about your proudest moments and achievements if they don't offer value to the reader.
Furthermore, look at your resume. Has it been littered with adjectives describing you as a "results-driven, highly-motivated, tenacious professional?" We don't disagree that you are all of those things. But the problem is everyone has this on their resume (if they haven't yet crafted a perfect one).
These adjectives are also just words – and actions often speak louder (we will talk more about this in future posts in the series). So remove them from your resume. They are taking up space and aren't backed with any evidence.
What's In it For Employers?
Always remember that your resume needs to convey the following:
What's In it For Employers (WIFE).
Your resume needs to show "What it is they are going to get when they bring you on board?" says Bentsi-Enchill. Consider the two statements and imagine what you as an employer would find more beneficial to your company.
Dynamic, results-oriented, and dedicated sales executive with proven track record of generating revenue and territory growth. Visionary leader able to see "the big picture" while executing detailed strategy. Demonstrated success in building and leading cross functional teams, leveraging excellent communication skills.
vs
Sales executive with 14+ years experience producing over $150M in revenue and consistent 10-15% business growth. Success in leading and developing cross-functional teams of 10-25 direct reports. Expertise in new market entry gained through 3 separate products/services.
Evidence of Impact
One of the biggest mistakes people make on their resume is providing a laundry list of their day-to-day responsibilities. And a job description does not show your impact in an organization.
If you feel you need to share details about your role, "It can be a small part of the resume, a scope statement" says Bensti-Enchill, which is, "two to three sentences in front of your bullet points that define the parameters of your role, your mandate."
Context is helpful, but your impact is going to come from the bullet points.
To show your impact, use your bullet points to share the problems you were presented with, the actions you took, and the results for the business.
Here are two examples. The first of each will demonstrate a responsibility, and the second shows the impact created.
Create queries using SQL to integrate company X's CRM database and historical selling results by SKU

vs

Designed new SQL queries allowing increased visibility of bottlenecks and tracking of specific SKUs – reduced average "go-live" cycle 57% (from 14 to 6 days) within 5 months of implementation
The first example recaps something you did. The second example articulates the fruits of your labor and shows impact.
Now take a look at another example:
Management of clinical study operations across Russia and Ukraine by specific project deliverables (timelines, recruitment rate, resources)

vs

Achieved 100% of enrollment target — from 19 to 56 subjects in eight months – resulting in project completion 4 months ahead of schedule
Once again, the second example shows the results of your responsibilities.
Tell a Story
Every good resume tells a story. But every perfect resume tells a relevant story to the organization you are applying to. "The market is selecting people who are more specialized in their function" says Bentsi-Enchill. Which is good news for specialists and a challenge for generalists.
"Focus on the two or three things that are most relevant to the company" he suggests for those with broad functional experience. Rather than providing a long list of everything you can do, make it your mission to clearly outline the most important skills for the employer (remember from Pt. 1: What's In it For Employers!). The last thing you want to do is make the person reading your resume try to understand your story by picking out the relevant details.
If you land the interview then you can really show off with your additional skills and proficiencies. Don't use all your valuable resume real estate to discuss them all at length.
Looking for transferable skills to highlight in your resume? Think about the commonalities between industries: people, time, and processes.
People. Did you manage a team? How large? Were you able to drive their productivity or results? People skills are valued in any organization.
Time. Did you achieve your targets faster than in previous quarters?
Processes. Did you find a way to cutback on the cost (or time) of a certain process? Did you find a way to automate something?
*Bonus tip* If you did, don't tell exactly how you do it. Instead, say that you used "new" or "innovative" techniques to achieve X. Make it so that the reader wants to call you in to learn what your technique was.
Quantify & Qualify
Ah, we arrive at our favorite part. Quantification! You know how you always hear about passing the resume 10 second test? Most often, recruiters are looking at your job titles (emphasis on the most recent), education, and the bullet points you've listed under your most recent jobs.
But guess what else catches their eye: big, beautiful numbers. These are anchor points for the eye in a document full of words, and draw a lot of attention.
"Increased, decreased, saved, and improved," are the words that beg for numbers to back them up according to Bentsi-Enchill. Alone, those words are claims. With numbers, they are proof.
And what if you are trying to quantify results from a job long past, for which you you don't have direct access to the hard figures. "Percentages are your best buddy," he says. You may not know the exact numbers, but you can probably recall that you moved the needle 50%, 75%, 100% etc.
What if my results are hard to quantify?
This is a common problem that people face, especially in administrative, creative, or support roles. Give a sense of the context through numbers. Take a look at the following example.
Perform administrative and office management duties including answering phone calls, handling incoming mail, and ensuring adequate office supplies

vs

Manage daily administrative operations of a 100-person office, while handling 80-100 calls and 150+ pieces of incoming mail per day.
---
The Ivy Exec Resume team ensures that your resume stands out and you achieve the career success you've earned. See the transformations for yourself.
---