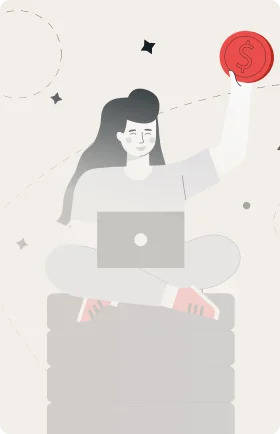 Get Paid to Share Your Expertise
Help shape the future of business through market research studies.
See Research Studies
No matter how you define "success," it's easy to dream of achieving it. Of making an impact. Of changing the world. You might even have a game-changing idea for a startup or an innovative solution to your organization's biggest challenge.
But success requires more than a brilliant idea. It requires an action-oriented mindset. A willingness to take risks—and learn from potential failures. A delicate balance of creativity with analysis, and a deep-rooted understanding of business fundamentals.
That's where an MBA comes in. Whether you're itching to launch a startup or striving to make an impact in an established company, an MBA will enhance your skill set and increase your odds of success. It will arm you with tools—from lessons in the classroom to an alumni network around the world—to help you advance your ideas, launch your company, and make an impact.
At Babson College's F.W. Olin Graduate School of Business, the MBA program is designed to instill an entrepreneurial mindset in students. The program's one-of-a-kind Entrepreneurial Thought & Action® methodology prepares students to overcome ambiguity, balance experimentation with action, and thrive in organizations large and small across industries. The end result: entrepreneurs of all kinds—be they startup founders, venture capitalists, financial analysts, brand managers, or anything in between—who are equipped with the tools, skills, and mindset necessary to achieve their definitions of success.
How did they leverage an entrepreneurial MBA to achieve their goals? To find out, we asked some Babson MBA alumni.
The Real-World Experience—and Expertise
Ken Anadu is a finance professional with an engineering background. "I decided to pursue an MBA to strengthen my understanding of how financial markets work and also to get some hands-on investment experience," he said.
At Babson, his hands-on experience came by way of managing a student-run investment fund. While managing the fund, he enhanced his portfolio-management skills and knowledge of investment-management software. The staff and faculty enhanced the experience. "There was state-of-the-art financial software and staff," he said. "It was an excellent hands-on investment management experience, and the professors were excellent. Most are former or current industry participants who are preaching what they practiced."
He leveraged that expertise to achieve his definition of success: a role as a financial services market specialist following graduation.
The Campus Connections
Classroom lessons and experiences are critical to leveraging an MBA for long-term career success. But what happens outside of the classroom is just as important.
MBA programs are much more than lessons and assignments. They provide a network of like-minded individuals and a wealth of resources for students to take advantage of. Those resources can even help you carve an unexpected career path.
Margo Layton Cole is a perfect example. Her background was in finance; she chose a Babson MBA to immerse herself in "an environment buzzing with ideas." One such idea: working in venture capital. It wasn't something Cole had ever considered, but the Center for Career Development on campus notified her of the opportunity to intern at a Boston venture capital firm. "I knew nothing about the firm and wasn't pursuing any opportunities in the venture at the time," she said. "But, when the career office notified me of the opportunity, it suddenly felt like the perfect fit."
The perfect fit, indeed. She moved into a full-time role with the organization, evaluating startups during the venture process: originating deals, screening inbound opportunities, conducting due diligence, and providing a valuable perspective in an often male-dominated field.
The Built-in Network
You might be thinking: why study entrepreneurship if I'm not planning to start a business? Monica Ballin, a brand manager for Samuel Adams, has your answer: "Entrepreneurship is so much more than starting your own business. It's a way of thinking; a mindset."
A mindset shared by the thousands of other individuals who've also gone through the MBA program, and are available for career advice, networking, and assistance—anytime. "Having a network of people ready to help professionally is one of the best parts about Babson," she said. "If I ever have business questions that aren't in my area of expertise, I know I have contacts that could help me."
The Tools to Take Action
Well before launching her company, DARTdrones, a flight school for drone pilots, Abby Speicher Carroll knew the drone industry offered incredible potential for startups. She chose to pursue her MBA at Babson specifically for the entrepreneurial focus—and to take her idea to launch.
And that's what she did. Over the course of her time as a student, she took advantage of on-campus accelerators, pitch competitions, alumni network connections—every available resource to get DARTdrones off the ground. She even worked on the business during class projects, alongside fellow entrepreneurial MBA students. "In many of my courses, my team worked on DARTdrones and created a go-to-market strategy and a marketing plan," she said.
The hard work and entrepreneurial education paid off. "Shark Tank" fans may remember Carroll—she pitched DARTdrones for the Sharks and ultimately landed a deal with Mark Cuban: $300,000 for 10 percent equity in her business. For those considering taking the MBA route to launch a startup, she says go for it, but be prepared to work. "DARTdrones didn't make it here overnight," she said. "I had the same pitfalls and distractions as any other student or entrepreneur. If you commit to putting your head down and working hard, you can get there!"