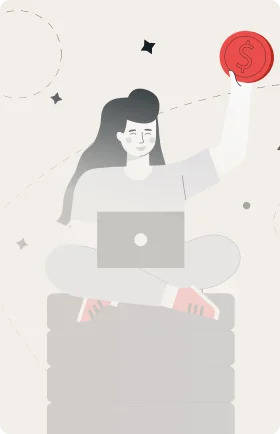 Get Paid to Share Your Expertise
Help shape the future of business through market research studies.
See Research Studies
How long do you spend in the car every day?
The average American commutes at least 30 minutes each way, and many of us travel far longer to get to and from the office. It's an unfortunate part of life, but it doesn't have to be.
Commuting can be an excellent opportunity to focus on "me time." Don't just listen to the radio or spend your time screaming at traffic or other commuters. Instead, take the opportunity to grow and learn through the power of podcasts.
The Power of Podcasts
You can literally subscribe and listen to thousands of podcasts that can help you improve your personal and professional life daily. There are podcasts that cover every topic under the sun from news to arts, business, comedy, education, politics, technology, health, sports, hobbies, and more. There are especially tons of dedicated podcasts to improve your career.
Many podcasts are free and regularly provide unique and interesting content that you can tap into from your smartphone, tablet, or computer at any time of the day or night. There are also many podcast apps for Android (you can find ten options here) and a built-in Apple Podcasts app with over 550,000 shows and 18.5 million episodes.
The right podcast can:
Inspire you with new ideas and help expand your horizons.

Keep you educated and informed on your favorite areas of interest.

Help you grow personally and professionally by providing insight from experts in various fields.

Provide an escape from the dreary pattern of everyday life with quality entertainment.

Optimize your time while driving, walking, commuting, or working out.
In particular, there are many podcasts that can help you in your career whether you're looking to snap a promotion, switch jobs, go back to school, or start a side hustle. Here are a few of my favorite podcasts to improve your career.
10 Podcasts to Improve Your Career
1. Lead to Win
Lead to Win is a weekly podcast designed for leaders. The podcast provides actionable insights for success at work and at life with lessons on everything from being a better boss to using your personality to your advantage. Each podcast is around 30 minutes long and hosted by New York Times bestselling author Michael Hyatt. As a former CEO of a $250 million corporation, Hyatt is great at offering advice on scaling businesses, leading teams, and achieving results.
Listen to the latest episode of Lead to Win here or listen on Apple Podcasts.
2. The James Altucher Show
James Altucher is a former hedge fund manager and bestselling author of The Power of No. On his podcast, The James Altucher Show, he provides fresh, honest, and blunt interviews with business thought leaders of all types. In the past, he's interviewed Tim Ferriss, Seth Godin, Peter Thiel, Mark Cuban, and Austin Kleon. Each episode he asks hard questions and challenges conventional business wisdom. His podcasts are both insightful and funny with more than 200,000 listeners and 12 million downloads.
Subscribe to the podcast here.
---
---
3. Being Boss
For something a little different, I love the Being Boss podcast. This show is all about doing the work and provides insight into time management training and creative business ownership. Hosted by best friends Emily Thompson and Kathleen Shannon, Being Boss is a mix of expert interviews and business conversations that cover practical advice for every day. In short, the podcast is ideal for leaders who want to be the boss of their own careers.
Listen and subscribe to Being Boss here.
4. The Angie Lee Show
If you're looking for a hilarious podcast that offers wicked smart business advice, you want The Angie Lee Show. A college dropout, Angie Lee is now an entrepreneur who makes seven-figures running her own podcast about business, money management, and life. Her show is perfect for women looking to improve their business, health, and relationships with real advice and insight.
Check out The Angie Lee Show here.
5. For the Love of Money
Chris Harder, the host of For the Love of Money, is great at breaking down a very simple question, "Do you want to be successful?" That question is the basis of his entire podcast, which shares tips and tools from successful entrepreneurs and business people. He dives deep into what it takes to be successful, providing motivation, insight, and stories from influencers at the top of their game.
Subscribe and check out his podcast here.
6. School of Greatness
For a podcast that covers everything from personal branding to embracing your spirituality, you'll want to take a look at School of Greatness. Hosted by Lewis Howes, this podcast combines business and self-development into a single cohesive unit. It is incredibly inspirational with many celebrity guests including Rachel Hollis, Leslie Odom Jr., and Kobe Bryant. Launched in 2013, this podcast gets downloaded over 2 million times every month.
Subscribe to School of Greatness here.
---
---
7. The Tim Ferriss Show
The Tim Ferriss Show is often the #1 business podcast on Apple Podcasts. It's been downloaded more than 300 million times and offers a little bit of everything. You'll regularly hear from celebrity guests such as Tony Robbins, LeBron James, Maria Popova, Jon Favreau, Edward Norton, and more. Each episode delves into the tactics, tools, and routines that these celebrities follow that have helped them be as successful as they are. You'll learn everything from favorite books to morning routines, exercise habits, time management tricks, and more.
8. The #AskGaryVee Show
Gary Vaynerchuck is the king of social media marketing. He's also an expert on entrepreneurship and professional development. His regular, hour-long podcast covers a range of topics on everything from perseverance to lucky breaks in business, relationships, anxiety, leadership, and more. He interviews influencers from a ride range of industries to get their insight into business and what they do to succeed. This is a podcast that helps you get into the right mindset every day.
Subscribe to the #AskGaryVee Show here.
9. Safe For Work
Life can be strange. Sometimes it's funny, challenging, ridiculous, satisfying, and frustrating. It covers the entire range and so does the Safe for Work podcast. The idea behind this weekly podcast is to help you find balance and happiness in your career. Hosts Liz Dolan and Rico Gagliano advise on everything from avoiding burnout to negotiating raises, moving on, working with annoying coworkers, and more. It has a little bit of everything including hard-earned advice from top business leaders.
10. Pivot
Pivot is a great podcast to help you if you're looking to change your career. Whether you're looking for a new job or an entirely new career path, host Jenny Blake provides great insight into pivoting your career path. As the author of Pivot: The Only Move that Matter Is Your Next One and a former Google career coach, Blake offers inspiration, practical tips, and tools for your next career opportunity.
---
---