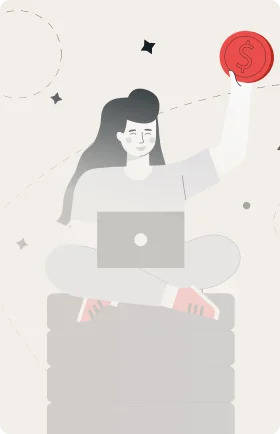 Get Paid to Share Your Expertise
Help shape the future of business through market research studies.
See Research Studies
Some cities are made for people to enjoy. Intelligent city planning is an invitation to use green spaces and be more sociable. Smart infrastructure ensures a quick commute and better air quality. When a city is designed for people, those who live there are generally happier about their perceived work-life balance.
Categorically speaking, of course, work-life balance can cover a variety of meanings among different people. But a few hallmark qualities stand out, including the average commute time and average workweek duration.
Which Cities Have the Easiest Commutes?
Commuting is one of our least-favorite ways to spend time. Not only is it bad for the environment, but a lengthy commute is also detrimental to a person's health and happiness. One study in England shows that adding just 20 minutes to your commute has the same negative emotional impact as taking a 19% pay cut.
Researchers from the NIHR Leicester Biomedical Research Centre also found a disturbing connection between routine travel time and brain function. In a study of 500,000 Britons, those who drove for long periods (2 or more hours a day) experienced cognitive decline over the course of 5 years. This research suggests that too much mental inactivity affects a person's mental acuity. Without mental stimulation, people gradually perform worse on memory and intelligence tests.
From this perspective, it's beneficial to live in an area where you can afford housing that's centrally located. Most cities price downtown business and financial sectors at a premium, but you might be able to concede other qualities, like square footage, in exchange for a convenient location.
Proximity isn't the only way to make your commute more bearable, however. Reliable public transportation might also help if you can use the commute time to read or talk with a neighbor or coworker. In this regard, Berlin (Germany) and Stockholm (Sweden) both boast an affordable and punctual public transportation system. Beijing (China) is also developing an impressive infrastructure and has 12 additional subway lines scheduled to open by 2021.
HERE, a company that produces location technology, launched an Urban Mobility Index to evaluate transportation around the globe. They rated international cities based on connectivity, affordability, sustainability, and innovation within the transportation infrastructure.
Here's how they rank the top 10 cities on mobility:
Copenhagen 

Brussels

Vancouver

Vienna

Zurich

Barcelona

Stockholm

London

Helsinki 

Amsterdam
How does the U.S. compare? Between 2013 and 2017, the average full-time employee commuted for about 52.8 minutes every day (4.4 hours per week).
Where Can You Find the Shortest Workweek?
In 1930, Economist John Maynard Keynes famously predicted Americans would have a 15-hour workweek by 2030. We're a long way from achieving that number. According to the Bureau of Labor Statistics, people in the U.S. with one full-time job on average spend 8.5 hours working on a weekday—or around 42.5 hours per week.
But numerous studies show employees thrive when they work fewer than 40 hours a week. During a two-year experiment in Sweden, for example, nurses who worked 6-hour shifts reported feeling more energetic, alert, and healthier. They took fewer sick days and paid greater attention to the quality of care and companionship they provided to patients.
This seems to imply that if you work fewer hours, you'll also discover a more rewarding work-life balance. Following that logic, it makes sense to choose to live in a city where employers expect you to work less than 40 hours throughout the week.
The Organization for Economic Cooperation and Development (OECD) ranked countries by the average number of hours employees worked per year. The study included days not working due to public holidays, parental leave, annual paid leave, training, poor weather, and other instances.
Here's how they evaluated which counties on average worked the fewest hours per year:
Germany: 1,363 hours per year

Denmark: 1,410 hours per year

Norway: 1,421 hours per year

France: 1,472 hours per year

Netherlands: 1,430 hours per year

Luxembourg: 1,512 hours per year

Belgium:  1,551 hours per year

Switzerland: 1,590 hours per year

Austria: 1,601 hours per year

Sweden: 1,621 hours per year
UBS, a global financial firm with a 150-year history, released data on average working hours for 77 cities worldwide in their 2018 Prices and Earnings report. Here are their top 10 cities with the lowest working hours per week:
Paris, France: 30.84 hours per week

Lyon, France: 31.36 hours per week

Moscow, Russia: 31.67 hours per week

Helsinki, Finland: 31.90 hours per week

Vienna, Austria: 32.26 hours per week

Milan, Italy: 32.51 hours per week

Copenhagen, Denmark: 32.63 hours per week

Luxembourg City, Luxembourg : 32.75 hours per week

Vilnius, Lithuania: 33 hours per week

Brussels, Belgium: 33.01 hours per week
Which Cities Worldwide Offer the Best Work-Life Balance?
There is no definitive list for the cities that offer the best work-life balance because there are many conditions that affect how we perceive job satisfaction and fulfillment. But, considering points about the commute, duration of the workweek, parental leave, PTO, and cultural norms about happiness, the following cities seem like promising bets.
Ivy Exec's Recommendations for Cities That Support Work-Life Balance
Lyon, France: While those living in Lyon have a slightly longer workday (31.36 hours, according to data from the UBS Prices and Earnings 2018 report) than their Parisian colleagues, the average commute time in Lyon is shorter. Considering how much commuting negatively effects people's work satisfaction, there may be many advantages to a slightly longer workday if the tradeoff is spending a little less time on the bus or train. 
Paris, France: Parisians value quality time with their family and friends, and this is reflected in their average workweek of 30.84 hours, according to data from UBS. French companies have many policies to support a healthy work-life balance and offer generous vacation time. 
Vienna, Austria: If you value work flexibility, Vienna may be the place for you. Austrian business culture has a well-defined business structure with boundaries that encourage workers to prioritize their families. UBS reports that employees in Vienna work an average of 32.27 hours per week, far below the global average.
Copenhagen, Denmark: Known for its outstanding quality of life, Copenhagen has a more relaxed attitude toward work, and generally spends 11.4% fewer hours in the office than the global average, according to UBS. As with many countries in the European Economic Area (EEA), Denmark's health system also ranks high, though anyone moving from the US to Denmark should be aware that there is a 6-week quarantine period before you gain access to public health services.
Helsinki, Finland: Employees in Helsinki receive a shorter workday than most of the globe, and the options for family leave are numerous. Every child under school age is also entitled to municipal day care. 
If you want to continue your career in a new location, check out Ivy Exec's job board, which includes curated listings from around the world that specifically target executive and high-caliber professionals. You might also want to explore an executive education to help you expand your international network—these EMBA programs received the highest ratings for providing a global experience.
---
Learn how to negotiate telecommuting benefits in your current or future role and work remotely.
---