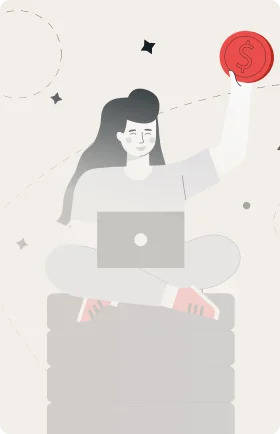 Get Paid to Share Your Expertise
Help shape the future of business through market research studies.
See Research Studies
LinkedIn can be a tricky beast when it comes to the job search.
92% of employers and 93% of recruiters use it as their "go-to" for sourcing new candidates.
However, as with any social media ecosystem, the number of different pathways to engage on LinkedIn can seem infinite, and most importantly….many of these options will do NOTHING to actually drum up more hiring activity for you!
So let's cut through the clutter and talk about 3 ways you can use this platform where it matters most: to actively generate new career opportunities on LinkedIn and get you on the way to some amazing offers.
How to Drum Up New Career Opportunities on LinkedIn
LinkedIn Career Tip #1: Position Yourself to Be Found.
Most people on LinkedIn use one of two approaches to their profile. Either they make it a carbon copy of their resume, or they choose to make it a desert wasteland with near-zero relevant information listed on it.
Don't go down either of these roads!
Look, your primary goal, if you're just getting started, is to show up in more relevant recruiter and hiring manager searches that are being done daily on the site. The best way to do this, bar none, is to pull up the LinkedIn profiles of competitors, people who have roughly similar backgrounds to yourself and have job titles you're currently interested in, and use as many of their winning strategies for your own profile as you feel comfortable with.
---
---
Let's say you're a Senior HR Director who works heavily within the Retail and Consumer Goods industries. By using LinkedIn's search bar and entering some of the keywords that you're strongest in, such as Talent Management, Human Resources, Process Improvement, Employment Law, and Recruiting, and then using the "industry filter" to further winnow down results to within Retail and Consumer Services, you can compile a list of highly visible competitors. Consider this the "guardrails" for your reinvented LinkedIn presence. You never want to go so far in the direction of unique value that you can't also be seriously considered at the same level as these people. This is what strategic positioning is all about!
Focus heavily on the following parts of your profile:
-The LinkedIn Headline: this is the 1-line "tag" beneath your name, like "HR Innovation and Diversity & Inclusion Expert."
-The LinkedIn Summary: this is the paragraph section beneath the LinkedIn Headline.
-The Featured Skills and Endorsements section: this is a keyword section. Include all keywords found on competitor profiles which you can reasonably defend (you can add up to 50).
Whenever you're lost, study your competitors. This is the single most effective way to quickly gain more of the right kind of visibility on LinkedIn- HIRING visibility!
LinkedIn Career Tip #2: Connect with New People in the Right Way.
People who are active on LinkedIn have a far greater-than-average interest in advancing their careers and building their organizations. Which means that you have an easy entry-point into initiating dialogue with high-level decision-makers who can either create a role for you…or are at most 1 step away from someone who can. The trick lies in the approach.
Let's say there's an executive at COMPANY X which you really wish to connect with. Pull up their LinkedIn Profile and study it for a second. In the top third of the page, you should see a "Mutual Connections" section- click it to see who you know in common. If someone relevant pops up, customize the standard LinkedIn connection request message to specifically call out this connection, or ask the mutual connection to make an introduction for you (this is highly effective).
---
---
What if you don't have a mutual connection? Check out this person's posting activity on LinkedIn under "Articles and Activity." If they've recently published something or posted an interesting update, customize the LinkedIn connection request message to let them know that you found value from it.
Are you seeing a pattern here? You got it: personalizing that initial connection request is KEY to getting your invites accepted and comfortably initiating dialogue….and yet, most people fail to do this! It's the little changes that can make a big difference on LinkedIn. I recently did a webinar for Ivy Exec called The New Rules of the Job Search that delves deeper into using LinkedIn effectively, you can watch the replay here: https://www.ivyexec.com/professionals/classes/details/the-new-rules-of-the-job-search
LinkedIn Career Tip #3: Find a Regular Engagement Strategy that Works for You.
By regularly engaging with your network, you will stay TOP OF MIND.
This is a huge advantage because it means you'll be one of the first people your network will think about on anything related to your areas of specialization/expertise.
Regular engagement also JUICES UP the visibility of your profile and will bring new connections your way, so it's truly a win-win.
Here are some tips:
-Aim for a mix of posting "little tidbits" of useful industry knowledge, sharing articles and videos, asking questions of your network and offering opinions.
Keep the tone conversational and think about BROAD INTEREST, not niche appeal. Where's the intersection between what you know and what ANYONE would find interesting?
-You can use services like Buffer and Hootsuite to automate your posts for the week. I use this myself for all social media engagement- it's a HUGE time saver! You can also use a content aggregator like Feedly to bring all sources of post ideas and inspiration under one roof.
It's a brave new world out there.
Just remember that the fundamentals of getting ahead haven't changed. Be strategic about how you position yourself. Engage with new people in a way that is respectful and informed. And actively initiate conversation and add value to your network to keep the fires burning. Happy hunting!