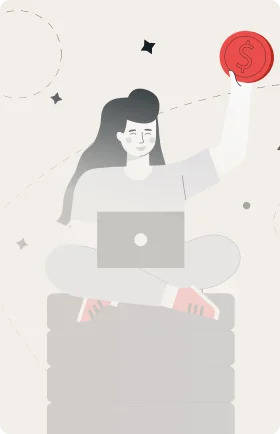 Get Paid to Share Your Expertise
Help shape the future of business through market research studies.
See Research Studies
Both mentors and sponsors can be important career-boosting options for today's professionals. But, what's the difference between them, which would serve you best and how can you find and work with mentors and/or sponsors? Here we take a look at mentor versus sponsor, what their roles are and how to seek them out and work most effectively with them.
Mentor Versus Sponsor
Mentors and sponsors serve two very important, yet generally very separate, roles, that virtually everyone can benefit from.
"You need both mentors and sponsors in your career because they serve different roles," says Amy M. Gardner is a career and career transitions coach with Apochromatik. "Mentors serve as a guide, talking you through issues and telling you that you can do it, while sponsors serve as cheerleaders, speaking about you publicly and telling others that you can do it."
Mentors, says Toni Patterson, a career mentor who works with high-achieving corporate women, provide you with a resource to help you practice ideas, level set on issues as they arise and gain advice on the proper way to handle various workplace issues. "At their core, mentors can serve to help you maintain your sanity and professionalism in your workplace," says Patterson. "over time, that could result in slow and steady advancement."
Sponsors operate at an entirely different level, and in an entirely different way, than mentors. Sponsors, says Patterson, are senior-level people with power and influence, who believe in your talent and skills and is are willing to stick their necks out to help you get key opportunities to advance your career. "The value of sponsorship is in turbocharging your career by helping you to obtain key assignments and earn promotions quickly, often even before you think you are ready," says Patterson.
---
---
From a mentor versus sponsor standpoint, says Patterson: "While both a mentor and a sponsor may want to give you an opportunity, a sponsor actually can give you the opportunity—or work one of his or her own relationships to make it so." Sponsors, she says, "are willing to put their own reputations on the line for your benefit because you have proven with your performance to date that you deserve to have that level of faith put in you."
"I learned through my first sponsorship experience that, although mentoring is great, it was not sufficient in truly helping me gain visibility and opportunity," says Esther Gonzalez Freeman, a board certified career and business coach. "There is power in being seen with your sponsor and in your sponsor bringing you into spaces you would never be able to access on your own. You build credibility at a much faster rate." This, says Gonzalez Freeman, a first-generation Latinx college graduate, "is especially powerful for members of marginalized and underrepresented groups."
Sponsors have much more required of them in these relationships, says Eileen Scully, founder and CEO of The Rising Tides, a consulting and advisory firm. "A sponsor will often recommend their sponsee for projects or promotions, putting their own reputations at risk," Scully says. However, she says, these are more powerful relationships, for both parties.
Scully has a succinct way of explaining the difference between mentors and sponsors to her clients: "you can ask someone to be your mentor, you cannot ask someone to be your sponsor—they decide that on their own."
Where to Find Mentors and Sponsors
Gina Calder, MPH, FACHE, is vice president, ambulatory services, at Yale New Haven Health – Bridgeport Hospital. She says she has "enjoyed career progression with the critical support of both mentors and sponsors over the past 10 years." In her view: "You actively seek and engage mentors; you actively attract sponsors," says Calder.
You may already have mentors and sponsors and not even realize it, says Gardner. "Who do you turn to when you need advice? Who do you look up to and know they advocate for you and use their clout for you?" Even those just getting started in their careers likely have mentors, even sponsors, she says. Who wrote your recommendations for school or who served as a reference to help you get a job?
But, if you don't already have mentors in your life, there are some steps you can take to find and connect with them.
---
---
"Think about people in your organization or field that you admire and trust," suggests Gonzalez Freeman. Take them to coffee and ask them about their path. Find ways to connect with them and build a relationship before you ask for mentorship."
Calder says: "I recommend actively seeking mentors in your organization, through professional associations, and other networks." It's important, she says, to have multiple mentors representing diverse perspectives and experience to gain the broadest insight and understanding.
Some organizations have formal mentoring programs. However, says Gardner: "The best mentor and sponsor relationships generally come about organically, but being in a formal program can help you learn what type of mentoring you need and will benefit from at this stage." And, she adds: "You never know; you could find a life-long mentor."
Importantly, Gardner points out, "don't do your career the disservice of assuming mentors and sponsors need to look like you." Gardner says that, while some of her greatest mentors were other women, "I would have lost out on innumerable opportunities and advice if I hadn't been open to mentoring and sponsorship by men."
Sponsorships are valuable and not easy to attain, says Patterson. Sponsorships must be earned through hard work, diligence, loyalty, and proof, she says.
Calder agrees. "I recommend first focusing on your performance," she says. "Consistent stellar performance always gets attention and attracts potential sponsors." Calder says that she got this kind of exposure, very early in her career by participating in and leading various committees for a local chapter of a national healthcare association.
Best Practices for Working with Mentors and Sponsors
The key to forming an effective mentor relationship, says Patterson, "is to not wait for the mentor to take the lead." Mentors are generally busy people and you may not always be top-of-mind for them. "Take the initiatives to schedule periodic meetings and don't' be discouraged if meetings something get canceled," she advises. "It's not personal. Over time, if you are consistent, the relationship will become more natural and less work."
Keep in mind that these are two-way relationships and should be managed accordingly, says Gonzalez Freeman. "If you want a seat at the table, you'd better be bringing something to it," she says. "What value do you bring? Why should someone at that level invest time, energy, and resources into you and your career growth? What will their ROI be? Are you able to articulate your value?"
Calder also recommends listening to and learning from both your mentors and sponsors about how you, yourself, could one day serve in those roles. "You will have the opportunity and responsibility in the future of paying it forward."
---
---