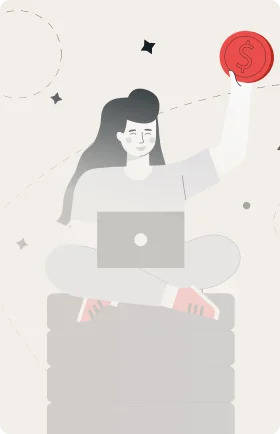 Get Paid to Share Your Expertise
Help shape the future of business through market research studies.
See Research Studies
What makes an executive credible? Is it the qualifications on their resume? Not exactly. There are plenty of people reading this right how who have the necessary experience but aren't perceived as "executive material."
A perception gap has emerged, meaning people have a distorted image of a candidate's character and status. Even if you don't exude executive-level authority right now, you can take steps to refine your image and earn the title you deserve.
How to Command the Room With an Executive Presence
1. Don't brand yourself as a manager.
Take a hard look at your resume and employee branding material and ask yourself, "Is this someone who'd be considered seriously for an executive role at [insert target employer]—or is this too low-level?" Broadly speaking, a great manager brand involves plenty of execution: managers encounter a challenge, take action, and then analyze the results (CAR). Executives are held to a different standard, one where the challenge must be defined before taking steps to address it. An executive creates and innovates as much as they solve. 
Study the LinkedIn profiles of the people who currently have the role you want. What keywords do they use? Can you spot which challenges they describe in their employee branding material, and then use that information to inform how you frame your work experience? Drawing from your competitive research, think about 5-6 core ideas that will form your new executive brand. Focus on the ways in which you actively move the needle for a company as a whole. While you're writing the resume, it might help to keep these 5-6 ideas listed at the top of the page so you remember to return to those concepts throughout the document. Use these themes to demonstrate your accomplishments in the work history section and provide contextual details. This is how you build a cohesive executive brand that will set high expectations with the employer before you even meet in person. 
Tip: Don't walk into a meeting at your current place of employment seeking an internal promotion unless your brand has been optimized to reflect an executive perspective. Being proactive sends a powerful signal—you know your worth and could turn to an outside offer if you don't find opportunities with your current employer. 
---
Searching for a job is a lot like marketing strategy. Here's how to perfect your executive branding.
---
2. Don't let your negative emotions take the stage.
I'll be the first to say that tapping into the anger or frustration in the moment can help break up a professional logjam. Under the right circumstances, a manager can get a group of people to reach consensus through browbeating and a "bad cop" routine. It's possible to fly off the handle for every little thing a junior team member does, and still hit the necessary project milestones. But all of these practices need to stop at the executive level, because no great company wants a leader who is controlled by their emotions. 
Going deep into mindfulness and meditation can help you tame negativity. The goal isn't to eliminate negativity entirely—you want to separate your emotions and intellect so you can make objective decisions. Experience what you're going to experience. But keep working on the tools that will enable you to evaluate the situation and execute the right actions regardless of how you feel. Once you see the positive impact of this approach, you'll feel more encouraged to make it habitual. That's how a negative-leaning curmudgeon like me learned to persuade people through kindness—and you can do it too. 
3. Direct their attention beyond the siloed perspective.
When you move from a manager level to the executive or director level, you're not just a specialized expert in a particular domain but the ambassador of a broader executive brand. So don't treat your experience like it's static and unchanging—instead, consider the audience. What's their background and history? What pain points are they looking to address? And most importantly, how will your skills and qualifications intersect with those pain points? Once you identify the topics that will resonate with your audience, then you can practice the art of framing the discussion through the lens of your audience.
This high-level emotional intelligence and communication will help you conduct yourself with authority. The key to having an executive presence is to elevate the conversation to the highest order—looking at the long-term organizational goals and values.
---
Watch the webinar: How to Leverage Your Executive Presence
---