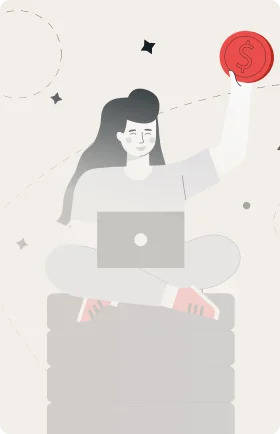 Get Paid to Share Your Expertise
Help shape the future of business through market research studies.
See Research Studies
There are many potential benefits for budding entrepreneurs to get an EMBA. Business school allows cohorts to explore ideas in an environment that doesn't pose fiscal risk, for example. Individuals can learn to create business plans and assess an idea before investing a large amount of capital. 
An EMBA will also teach you how to grow and run a business, not just launch it. The program prepares entrepreneurs to overcome a variety of challenges, such as financial planning, team management, scaling operations, and market volatility, to nurture startups into fully fledged, publicly traded companies. Just a few missteps could derail a new venture, but if you incorporate these lessons into the overall business strategy, you'll be more likely to introduce viable solutions. 
No business leaders succeed on their own—which is why an EMBA program is also the ideal setting to meet future partners and colleagues. They facilitate networking between cohorts and alumni so talented individuals can realize their dreams together. Your professional network is as important as any other asset in your portfolio, and business school can build the foundation of your professional relationships.  
Below are the most lucrative EMBA programs for professionals looking to start their own business. 
5 EMBA Programs That Cultivate Entrepreneurs
This well-regarded program was ranked #2 by the Financial Times in 2019 for economics and #5 by the Financial Times for Corporate Social Responsibility. The program lasts 20 months and offers weekend-based scheduling, in addition to an experiential session abroad. The Rutgers EMBA focuses on practical learning with immediate applications to today's market and students' day-to-day work, but they also design the curriculum to address business management at every stage of growth. Post-graduation, cohorts can audit elective courses and continue to harness the career services office for job opportunities and counsel.   
The Rutgers Executive MBA program includes three electives; though courses are subject to change over time, the Financial Strategy elective is one of the highest-rated for entrepreneurs. EMBA cohorts can also take one or more electives from the full-time Rutgers MBA schedule. Previous classes include, for example, "Urban Entrepreneurship & Economic Development," "Managing Growing Ventures," "Opportunity Identification and Evaluation," and more.  
The Broad College of Business EMBA is a 20-month program and ranked #8 nationally by the Financial Times. It offers a team-based learning environment, a week-long international residency, and the opportunity to work with a nonprofit organization (NGO) for social outreach. Previous cohorts have partnered with Alliance for Housing, Homeless Action Network of Detroit, and Michigan Energy Options.  
Michigan State University offers a 1.5-credit EMBA elective on Entrepreneurship, which explores ideation, business model creation, and market assessment and validation. The class culminates in a discussion about go-to-market strategies. Other relevant electives include "Strategic Decision-Making," "Critical Thinking for Innovation," "Ethics in the Workplace," "Managing Change and Innovation," and more.  
---
Is your business idea viable? Here's how to tell.
---
The Columbia Business School EMBA offers purposeful learning to help new businesses build viable and competitive strategies, immediately from launching. They attract cohorts from a variety of backgrounds and invite everyone to embrace an entrepreneurial mindset to innovate beyond standard business conventions.  
Cohorts can decide to adopt a concentration in entrepreneurship by enrolling in electives like "Foundations of Entrepreneurship," "Starting and Running an Entrepreneurial Company," and "Global Entrepreneurship," just to name a few. Columbia University offers a wealth of options, including over 4,000 graduate-level courses, all of which are also available to alumni to audit for free. To supplement the academic program, the university hosts live weekly workshops, along with complementary tutoring, mock interviews, a mentorship program for entrepreneurs, and one-on-one career coaching. 
Entrepreneurship is built into the DNA at the Leavey School of Business Executive MBA program in Silicon Valley. The curriculum centers around four key competencies: Strategic Leadership, Innovative & Entrepreneurial Thinking, Cross-Functional Execution and Analytical Decision-Making. A significant portion of the program is also immersive, giving cohorts unparalleled access to industry leaders from around the world. 
Santa Clara University invites aspiring entrepreneurs to enroll in cross-disciplinary electives and personalize the program to their unique needs. They also offer core classes, like "New Venture Creation," "Corporate Entrepreneurship," and "Strategy and Business Model Innovation" to help them become more effective leaders. The university's pivotal location in Silicon Valley is also a big draw for people who are thinking about starting their own business, and their relationships with local organizations introduce compelling value to the program. Santa Clara University Leavey School of Business is well-respected in the tech arena and explores cutting-edge research.
The University of Connecticut Executive MBA empowers business professionals with the leadership skills and technical acumen needed to run a business. The program was designed to encourage students to apply a broad perspective to problem-solving, which allows them to identify solutions that serve multiple purposes. Located in Hartford, the EMBA program includes 48 credit hours and an international residency.  
The University of Connecticut empowers cohorts to tailor their curriculum to their interests, and the executive touchstone project is a prime example. For 1.5 credit hours, cohorts can explore idea inception, design an assessment framework, analyze the feasibility of a business proposal, and then develop implementation strategies. The assignment is an invaluable method for aspiring entrepreneurs to receive guidance before setting a business plan into motion. "Value Creation and Competition," "Leadership," and "Operational Analytics and Improvement" are other examples of UConn classes that are imperative to business founders. 
---
If you're interested in learning more about executive education programs from around the world, consider Ivy Exec's 2020 EMBA rankings. Every year, members review over 100 solo and joint programs to evaluate the best graduate programs for prestige, career advancement, curriculum strength, global experience, and life balance. Every school profile includes in-depth information about cohort size and demographics, tuition costs, industry concentrations, and faculty. You can also find hundreds of anonymous student reviews and links to each program's website, brochure, and contact details.