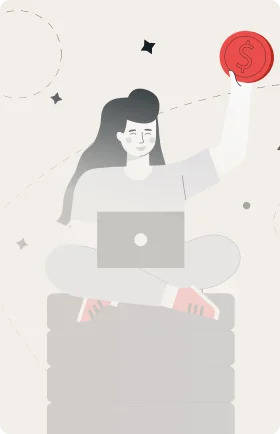 Get Paid to Share Your Expertise
Help shape the future of business through market research studies.
See Research Studies
Applying to jobs can be daunting. It can take hours upon hours to tailor your resume to each and every application, write a new cover letter for every hiring manager, and fill out each application. But it's all part of the process, and it's important that you put in the time and effort necessary. How much (or how little) you put into your job applications could make or break your chances at landing an interview — and, ultimately, a job.
LinkedIn is a great place to find job opportunities. After all, more than 675 million professionals use the platform to connect with each other. All you have to do is set up a profile with your work experiences, education, skills, interests, milestones, and any other pertinent information you want to share.
You can even apply for jobs via LinkedIn using the Easy Apply option. Tapping this alluring blue button quickly sends your LinkedIn profile to hiring managers. But it's not always the best idea to use this shortcut.
Here's what you should know about when should not and when you can use the Easy Apply option on LinkedIn.
Why you shouldn't use the Easy Apply option on LinkedIn
The Easy Apply option can save you a ton of time, but anything worth applying for is worth taking them time to apply for. There are a number of downsides to applying through LinkedIn's Easy Apply option.
Here's when you most definitely should not use the Easy Apply option on LinkedIn.
1. Your LinkedIn doesn't tell your whole story.
"As with all quick fixes, the easier option has its drawbacks," writes Jaclyn Westlake, a career writer. "Primarily, you're trading customization for simplicity. When a recruiter receives an 'Easy Apply' application, all they see is a snapshot of your LinkedIn profile — namely your photo, headline, past and present job titles, education, and any skills you've listed. That's it!"
So if your LinkedIn profile isn't up to date, she says, it can come across as "very bare-bones" or it won't tell your whole career story.
"You probably won't be hearing from prospective employers anytime soon," she says.
2. Easy Apply doesn't include a cover letter.
"I am currently reviewing many CV's sent through Linked In Jobs as we seek to grow our team — very few of them include cover letters," writes Eric Stryson in a LinkedIn post. "Those that do are for the most part very bad. A few weeks ago I was so dismayed that so many candidates expected me to try and decipher their overly cluttered resumes without any context or commentary, I added a line to the top of the Job Description: 'ONLY APPLICATIONS WITH A COVER LETTER WILL BE CONSIDERED.' Still the naked CV's continued."
He eventually concluded that this "mechanical process and the robotic mindset" was "killing the art of the cover letter." And Easy Apply was a top culprit.
"Apply for something worth getting is never really easy," he writes. "If you think it is, you have probably already disqualified yourself."
3. Hiring managers don't have a whole lot to digest.
"Before employers see your resume or your complete profile, they have to select you from a long list of candidates," writes Tom Hillhouse on Medium. "The candidate list an employer sees ONLY includes the following information: your picture, name, location, and headline. That's ALL employers have to decide whether you're a good candidate or not."
That's not a very good first impression — no matter what you decide to include as your headline. So the least you can do is make sure that your headshot is professional and your information is up to date.
"Your headline should be the job title you want fit into 30 characters, even if it isn't your current job title," he says. "Why? THE HEADLINE IS TRUNCATED TO 30 CHARACTERS. If all employers see is your headline truncated to 'Currently seeking a position in…' you're getting skipped."
4. The company's software might not be able to read your resume accurately.
We hate to break it to you but many, many companies use applicant tracking systems to work their way through heaps of resumes. This is especially true of bigger companies that get hundreds, if not thousands, of applications.
You can upload your resume with LinkedIn Easy Apply. But, because LinkedIn wants people to use their platform, the PDFs you upload may not work well with the company's software. So it may end up getting tossed anyway.
"Another thing that we see that's related to PDFs that's happening more and more, is people are using their LinkedIn profile as a resume," Robert Ruff of Sovren told Ladders. "I agree that the content is there, but LinkedIn has, for several years now, been on a campaign to make their PDF profiles not accurately readable by parsing software. Which is their right to do, but it's a disservice to their users. And it's a mistake for people to then use their PDF LinkedIn profile."
Westlake also adds to keep in mind that employers won't see your resume right away. The first thing that they'll see is your LinkedIn profile.
"If your profile doesn't look great, the hiring manager may not even bother opening your beautifully written resume," she says.
When the Easy Apply option on LinkedIn could work
That all said, the Easy Apply option can be incredibly helpful in some scenarios. Here's when it may be okay to use the Easy Apply option on LinkedIn. Just make sure that you assess each situation with careful thought.
1. When you've fully revamped your LinkedIn profile…
Your LinkedIn better be in good shape if that's all that employers are going to see from you. It needs to be more than just "fine" or current. It needs to wow them so much that they don't just skip over you because you decided to use Easy Apply.
"If you've created a dazzling LinkedIn profile full of relevant keywords, rich descriptions of your experience, tangible achievements, and a stellar headline, you're in a much better place to use the 'Easy Apply' button because you're offering hiring managers a clear picture of how you're qualified for the role," says Westlake. "If your LinkedIn doesn't check all these boxes, don't even think about using the 'Easy Apply' button until you've fully optimized your profile for your job search."
Others agree.
"If you have a complete profile with your contact details, skills, and experience (and hopefully some endorsements and recommendations), the company will have access to your profile, along with your phone number and the resume that you upload, after you use the LinkedIn Easy Apply feature," writes David Granoff on Quora.
2. When you don't care about the job all that much…
"As you casually peruse the latest job postings on LinkedIn, you find an opportunity that sounds interesting — sure, it's not your dream job, but you wouldn't mind learning more about the company," Westlake says. "In this scenario, the easy option might be the way to go so you can focus your energies on applying to jobs you really want while still broadening your reach."
Then, if you hear back from the company, it's a pleasant welcome. But, if you don't, it's totally okay, too. After all, you didn't want the job all that badly.
3. Your LinkedIn profile is keyword optimized.
The reality is that hiring managers use different tools to filter through applications that, sometimes, don't even meet human eyes until much later in the process. So, if your LinkedIn is fully keyword optimized, you're in better shape to make the cut.
"There's no way around it," says Hillhouse. "Employers will use filters to sort through the hundreds of candidates. The main filters we use are keywords, job title, location, and geographic area. Is your application going to make it through the filter? Your profile text MUST include keywords that match the job description. Use variations of filter keywords in your profile summary and job descriptions (include both 'developer' and 'engineer,' for example). Include technologies you have used in your list of skills."
By AnnaMarie Houlis for Fairygodboss.