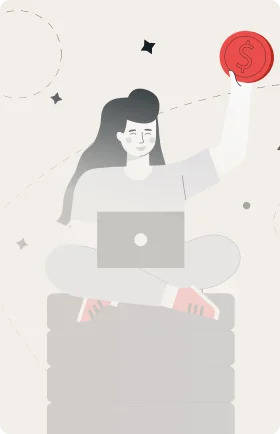 Get Paid to Share Your Expertise
Help shape the future of business through market research studies.
See Research Studies
As the Great Resignation continues, questions arise about how exactly to leave your job without burning bridges. If you're unhappy in your current role, it can be tempting to make a statement out of your exit instead of simply penning a diplomatic resignation letter. You might want to take a page from the book of the JetBlue employees who drank beers as they slid down the emergency exit of a plane in a shocking resignation – or at least plan for a similarly-dramatic departure. 
But even if you're no longer satisfied with your job, it's likely you developed your skills and capacities in your role. Even if you were never happy in your workplace, it's still not a good idea to leave in an unprofessional way, as you never know when your boss and colleagues may be necessary for your professional future.
According to Veanne Smith of IT Staffing firm Soltech, "It's common practice for hiring managers to do online research of a prospective new employee, and rather easily connect with someone who has previously worked with that individual. We've witnessed many instances where the hiring manager confirmed that the individual was a strong performer, but they burned a bridge on the way out, so the hiring manager chose to hire someone else."
One of the best ways to ensure you maintain your connections as you leave your company is by writing a cordial, thoughtful resignation letter. Here's how to write a resignation letter that will keep your bridges to your former employer intact.
Start by mentioning your intention to resign.
Don't bury the purpose of your resignation letter in a larger paragraph. Instead, start out the message by stating your objective immediately after your greeting. Be sure to also mention the specific title of the position you're resigning from.
Include details about your plans to leave the company.
Make your resignation as simple as possible for your employer. This means articulating the date you plan to leave, and outlining what they should do with your final paycheck as necessary. Also, include any questions you might have in severing your relationship with the organization. Finally, add your contact information so they can be in touch with you in the future.
Mention what you have learned and why you are grateful to the company.
At some point in the letter, you want to describe why you appreciated your growth in the position, your boss' leadership, or your enjoyment of the team. You don't have to go into elaborate detail here, especially if that would force you to be insincere, but be sure to write at least one or two sentences of thankfulness.
You could also describe some of the highlights during your time at the company if you like.
Include these additional options depending on your personality and connection with the company.
     

The

role you have been offered

at another organization.

     

Your willingness to train whomever the company finds to replace you.

     

Your enthusiasm about the company's future.
Keep your resignation letter short and sweet.
Even if you were unhappy with some of the company's policies, the resignation letter isn't the place to vent your frustrations.
"It is courtesy to follow your resignation meeting with a letter, keep it short, you don't need to give lengthy explanations on why you are leaving or address company failings," writes Tatiana Compton of Ivy Exec.
Instead, keep the letter short. Aim for a paragraph or two, with a final sentence or two promising your willingness to simplify the transitional process for the company and new hire. Finally, end with a cordial salutation and a thank you.
Bring your resignation letter with you to your one-on-one meeting with your boss.
Once you have written your letter, then print it, sign it, and seal it. You may be tempted simply to put it on your boss's desk, but this doesn't show sufficient respect. Instead, first tell your boss about your plans in a one-on-one meeting, making sure you leave enough time to give your two weeks' notice.
Bring the letter with you to the meeting, but keep it hidden until you've stated your intentions. Giving your boss the letter at the end of the meeting both concludes the conversation, and signals a finality in your  relationship.
When You're Ready to Resign
In connection with the resignation letter, it's equally important to exit your current position gracefully. Build your reputation as an esteemed colleague by leaving notes for your eventual replacement and offering helpful feedback – not bitterness – at your exit interview.
Key to a thoughtful resignation letter and an admirable exit is that you never know when you might need your boss or former colleagues to advance your career.
---
Ready to find your next opportunity? Explore our curated job board!
---