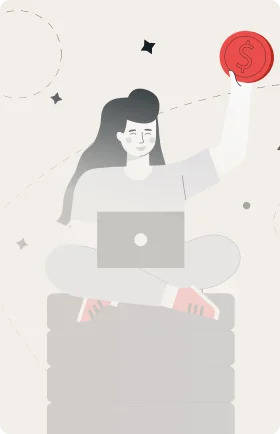 Get Paid to Share Your Expertise
Help shape the future of business through market research studies.
See Research Studies
The custom of giving two weeks' notice when resigning from a job is, more and more, being called into question — and it's about time that it was. 
That's according to Robert Glazer, the founder and CEO of Acceleration Partners. In a well-circulated piece for Harvard Business Review, Glazer called the two weeks' notice tradition an "arbitrary and mostly American phenomenon that increasingly seems antiquated." 
"(Today's) job-hopping mindset, combined with the inefficient standard of giving two weeks' notice, can be an incredibly contentious and expensive problem for companies," Glazer wrote. And of course, the pandemic — with its attendant flurry of resignations — has only exacerbated the problem.
But resignations delivered within a two-week window don't just cause staffing headaches for companies; an exit that's perceived as hasty can come back to bite workers, too. "How an employee leaves a company can also develop into an ongoing obstacle in an employee's career, thanks to the increased use of backchannel reference checks," Glazer added. 
If two-week notices aren't the answer, though, what is? Glazer is one of many senior leaders today advocating for closed-lip quitting protocols to be replaced with open discussions about workers' career transitions and new job opportunities, and to make these conversations "less taboo in the first place." It's something he's successfully implemented at his own company in the form of an open transition program — a practice that's proven, Glazer says, to "improve engagement, retention and culture overall."
But what, exactly, is an open transition program? We unpack everything there is to know about these programs below, as well as how to implement one at your organization.
What is an open transition program?
Although open transition programs can take different shapes, in broad strokes, they're a period of — you guessed it — transition after either an employee or employer has decided it's time to move on from a working relationship.
"When the decision is made by the employer or employee to move on, there is a transition period that allows the employee to begin the search for their new job while remaining employed," Glazer wrote for HBR. "During this time, the employee agrees not to give two weeks' notice, and employers don't ask them to leave right away (except in extraordinary cases)."
These transparent programs are, in essence, a taboo-free acknowledgement that work is "not a life-long commitment," Amy Bos, Founder of MediumChat, said. 
"I used to despise the secret of changing jobs and felt fraudulent sneaking off to job interviews when I was employed," Bos said. "As a manager, I've learned that discovering an employee has been quietly preparing an escape plan for weeks or months does not feel good. Managers and staff can have transition-related discussions in the open once we realize that work is not for life, and that is beneficial for everyone."
4 Reasons to Create an Open Transition Program At Your Company
1. They can totally transform your work culture, for the better.
"Successful open transition programs can actually transform an entire organization, functioning as the foundation of a re-energized approach to HR," Tina Hawk, SVP of Human Resources at Goodhire, said. "For example, many open transition programs will invite employees to be completely upfront and honest about when they're considering interviewing for another company. Employees can then be offered the chance to alter their current roles and responsibilities in order to maximize their job satisfaction."
And if an employee does still want to leave, Hawk says an open transition program "generally means the employer will actively help you find the best new job available to you" — something that can, a bit counterintuitively, improve retention: "In effect, by opening the doors for you, employers can earn the trust of their team and actually improve their likelihood of retaining you long-term," she said.
2. They protect knowledge transfer.
"Another benefit of open transition periods is that you can plan to hire before the departing employee's last day, allowing them to be involved in training their replacement," Debbie Winkelbauer, CEO of SurfSearch, said. "Knowledge loss is a big concern when you have turnover, especially in positions that require specialized or niche skills. The risk of knowledge loss goes down when new hires can learn right from the last person who did the job."
3. They're a smart networking investment.
"By implementing an open transition program, you help your bought-in employees reach their full potential — which inevitably enhances your organization's overall performance — while assisting those who don't quite fit your company with finding a better role elsewhere," Aaron Case, a career counselor with Resume Genius, said. "Expending such effort on an outgoing employee may seem counterproductive, but it's really a smart networking investment. Employees who leave and blossom elsewhere will be eager to collaborate with or return to a company that was self-sacrificially supportive of their career development."
4. They're, frankly, more of an adult approach.
"When a company utilizes an open transition program, they are removing a lot of the discomfort and unpredictability from the resignation process," Sara Causey, Owner of Causey Consulting, said. "They are also acknowledging that if a worker wishes to move on to something else, they are not going to create a hostile environment about it. Employment is more transitory now than it has been in the past, and by cultivating an attitude of freedom rather than punishment if someone wants to move on, a company will be much more competitive."
How to Implement an Open Transition Program
1. Know that open transition programs aren't possible in a fear-based culture.
"You need a high degree of employer-employee trust for a more open transition model to be successful," Winkelbauer said. "In a fear-based culture, employees may be hesitant to reveal their long-term plans to management because they're worried it will negatively affect their prospects and treatment during their time with the company."
2. Train company leaders on what the program's communication should look like.
Even in companies with a generally positive culture, Winkelbauer said taking this approach to employment "requires a mindset shift from both leaders and employees, many of whom will likely be uncomfortable at first with the more open dialogue around eventually leaving the company." Because of that, you'll need to provide templates and examples, both for managers and for your team at large, of how, exactly, to have open transition conversations.
3.
To reach workers
before
they need an open transition program, be proactive with stay interviews.
"There needs to be open, honest communication without fear of punishment, and that's one reason why I am an advocate for stay interviews," Causey said. "Communicate with employees on a regular basis to find out what's really going on within the company and actively listen to them. Do not listen simply to respond or to go on the defensive."
4. Ensure the program is helpful to employees — and not just beneficial to you, the employer.
As Freeman Smith, Director of Nufactur, put it, open transitions are great for both employers and employees in theory. In practice, however, "these programs rarely provide much value to the departing employee."
"The only way to make an open transition program work is for the benefits of the program to be so valuable that employees use the program before they've landed another job," Smith said. "The program should embrace the employee's desire for change by allowing time for interviews, helping with referrals, and providing coaching through the process… The best thing an employer can do is be open and supportive so that future employees who decide to leave are incentivized to take advantage of an open transition program."
---
Find more career transition stories and advice on the blog.
---